Meta Quest 3 is the latest VR headset designed to lure us into the metaverse. But since the launch of the Quest 2 in 2020, we've also seen the launch of Meta's advanced headset, the Meta Quest Pro, which featured full color pass-through for mixed reality, a thinner form factor, pancake lenses, integrated face tracking and more. So the question is how many of these "Pro" features have made it into Quest 3? And has Meta addressed the issues many had with Quest 2?
One of the biggest problems with Quest 2 was the initial requirement for a Facebook account to use it. We don't need to go into the various arguments for and against using Facebook here, but it became an issue that overshadowed many of the product's benefits. Thankfully, Meta changed this policy in late 2022, and you can now use Meta headsets with a separate Meta account. Another issue with Quest 2 was the lack of color pass-through, which allows you to see a real-time view of your surroundings and have VR elements interact alongside physical objects. But this has also been addressed within Quest 3.
As well as introducing a number of 'Pro' features, Meta claims the Quest 3 is also its most powerful headset yet, and our experience with the device suggests all the hype may have been worth it, and it certainly will be. added to our best VR headset guide.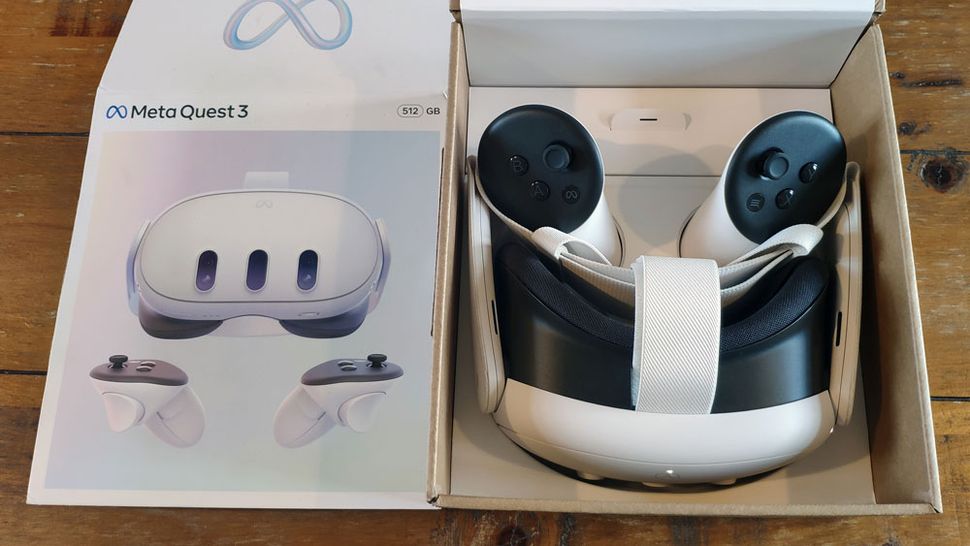 When you unbox the Meta Quest 3, the first thing you'll notice is that, compared to its predecessor, it's much more compact. In fact, according to Meta, the Quest 3 is now 40% slimmer than the previous iteration, which combined with the three front-facing cameras makes it easily distinguishable from its older sibling.
Alongside the headset you also get two controllers, each of which has a thumbstick, two triggers, two control buttons and a menu button. These are essentially the same controls found with Meta Quest 2, but – unlike those controls – these no longer have the awkward plastic 'halo' found on most VR phones, which is a real bonus.
As with most tech products these days, you won't find a thick set of instructions included with Meta Quest 3; you simply follow a few basic steps, install the accompanying mobile app (via a URL or QR code) and you're ready to go. And if you order a Meta Quest 3 before January 27th, you'll also get a free copy of Asgard's Wrath 2 (which is PEGI-rated 18 and retails for £44.99).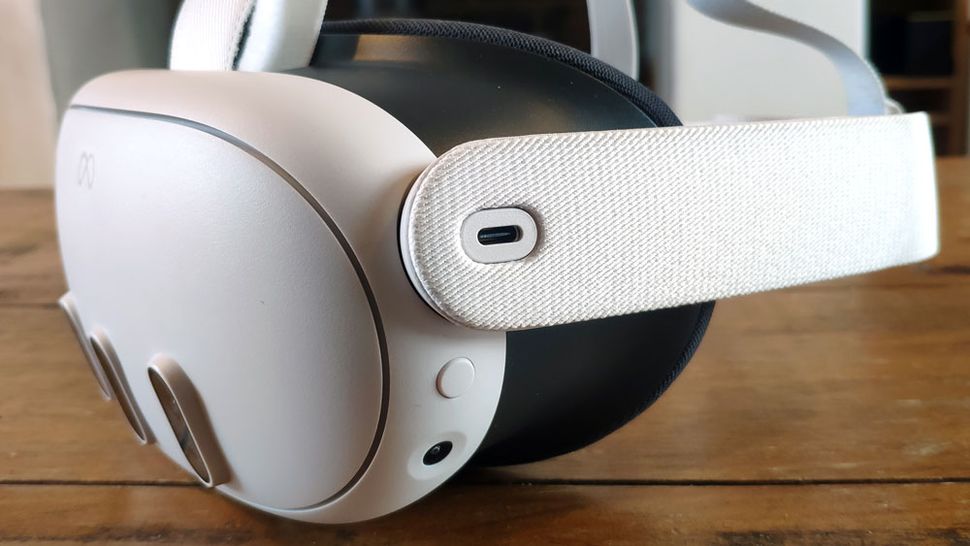 Before you start using your headset, make sure it fits comfortably. This is easy to do, via adjustable back and top straps, which can be loosened and tightened with velcro and slide fasteners. If you wear glasses, there are two depth adjustment buttons inside the headset, which when pressed allow you to create more distance between your face and the lenses. This should give most people enough room to play with; however, if you find you still don't have enough space, you can purchase replacement prescription lenses from Zenni VR.
Once you have the headset comfortably positioned, turn on the device by pressing the power button (located on the left side of the headset). And once the device boots up, you'll be taken through a quick tutorial, which includes moving the lens adjustment wheel on the lower left side of the headset, giving you the ability to change how close the lenses are.
One of the advantages of Meta Quest 3 is how simple and intuitive the installation process is. And once you've set up your headset, you can dive straight into the tutorial app, which walks you through using the controls, moving around the metaverse, and taking photos and video while using the headset.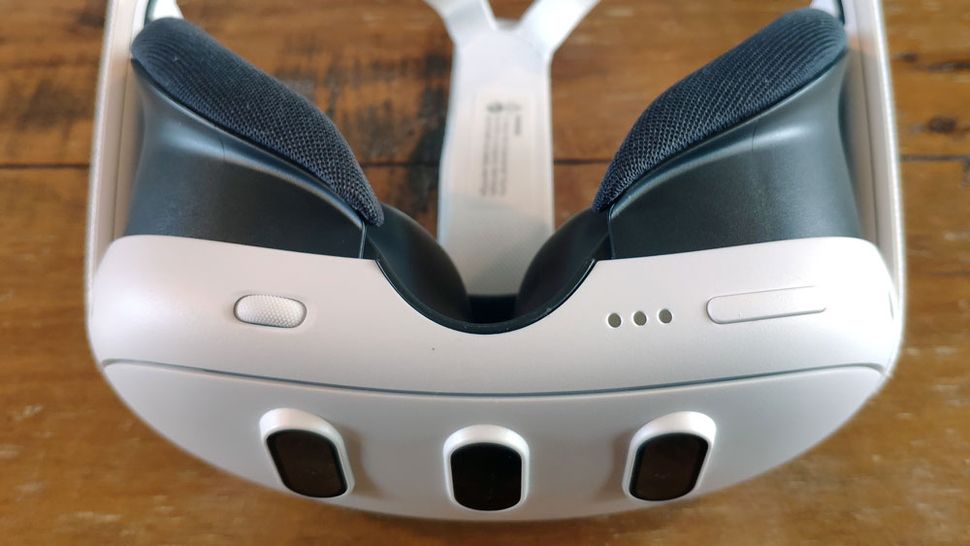 The general design of Meta Quest 3 is a marked improvement over its predecessor. The ergonomics of any VR headset are one of the primary factors to consider when evaluating them, as they can have a huge impact on the overall experience.
In the case of the Quest 3, the weight is still unevenly distributed, with the main body of the device on your face (whereas the Quest Pro has a battery that sits on the back of your head, providing a more even weight distribution). That said, a slimmer form factor puts the weight closer to your face, and it's noticeably more comfortable than the Quest 2. Is it perfect? Absolutely not. It still weighs 515g, and that much weight sitting on your face will eventually become uncomfortable after an hour or two. But with the addition of the Meta Quest 3 Elite strap with battery, you can get an even better balance, almost identical to the experience with the Quest Pro.
When it comes to button positions on the headset, they are all well thought out, as is the 3.5mm headphone jack and USB-C charging port. And the overall build quality is high, as you'd expect for a product in this price range.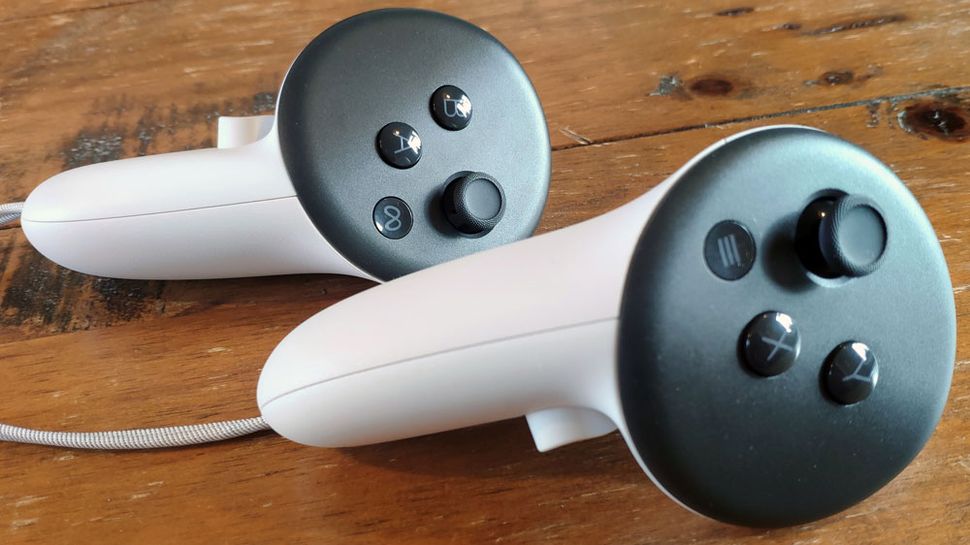 The big difference between the controllers for Meta Quest 2 and 3 is the removal of the annoying rings, or "halos", that many older VR controllers require for tracking. In previous Quest handsets, these rings contained key sensors, but the Quest 3 uses AI technology and IR LEDs, which are embedded into the top of the controller instead. This makes the ergonomics of the controller much better, frees up the thumbs and reduces the risk of damaging the sensors.
Another key feature from Quest Pro that has carried over to Meta Quest 3 is the addition of TruTouch haptics, which provide a higher degree of interaction. Unfortunately, the tracking camera from the Quest Pro controllers has not been included. And it's also a little sad to see that the controllers still require AA batteries, but that's a minor issue. And the controls are a pleasure to use.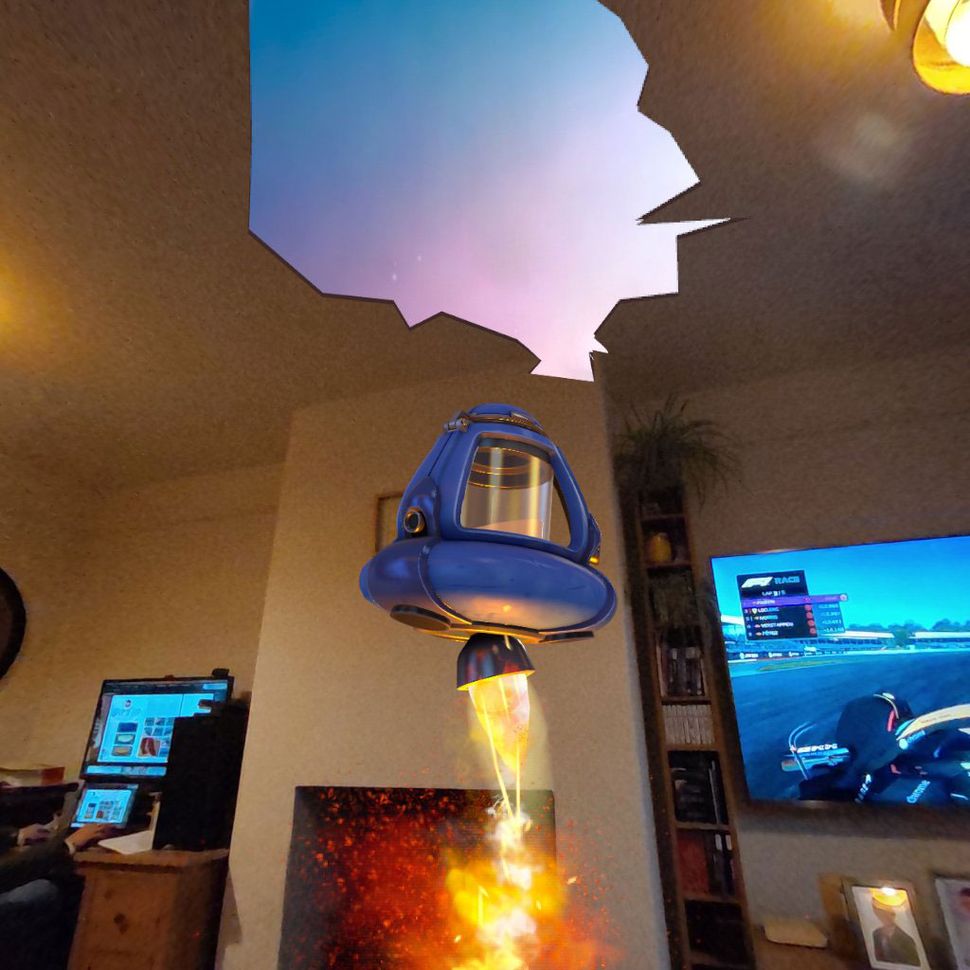 Meta Quest 3 comes with full-color augmented reality (AR) streaming, delivered via dual 18 PPD (peak pixel density) cameras. This is by far the biggest single upgrade in the Quest 3, and is also an improvement over what the Quest Pro's single RGB camera delivered. But while the image quality is good enough to distinguish text in books and on your phone, it's uncomfortable to read for any length of time.
Specifications
Show: Two LCD screens. 2064 x 2208 pixels per eye
Chipset: Qualcomm Snapdragon XR2 Gen 2
CPU: Octa-core Kryo (1 x 3.19 GHz, 4 x 2.8 GHz, 3 x 2.0 GHz)
GPU: Adreno 740
Memory: 8GB
Storage: 128 GB (512 GB also available)
Lenses: Pancake lentils
Update frequency: 72Hz, 80Hz, 90Hz, 120Hz
Field of view: 110 degrees horizontally, 96 degrees vertically
Pass through: Dual 18 PPD color passthrough cameras (also used for tracking)
Tracking: Supports 6DoF (six degrees of freedom). Uses 4 cameras for visual control tracking, two front-facing color cameras for stereoscopic 3D mixed reality. Includes forward-facing depth sensor and gyroscopes and accelerometers in headset/controllers
Response: Haptics on controller but not headset
Battery life: 2-3 hours
Charging time: 2.5 hours
Audio: Integrated 3D stereo speakers, 3.5 mm audio jack, built-in microphone
Connection: USB-C, Wi-Fi 6E, Bluetooth 5.2 (with latency)
Weight: 515g
The Quest 3 comes with a free game called First Encounters, which does a great job of showing off the device's AR capabilities. The premise is simple: you basically have to shoot a bunch of aliens that enter your home (or whatever space you're using the headset in). It's very fun. And a perfect AR showcase. But what it also highlights is how Quest 3 can now effectively map your surroundings, without the need for external sensors, so you can have VR and physical elements interacting within the same space. Meta plans to do a lot more with this technology and, if First Encounters is anything to go by, we're really excited to see what developers can accomplish.
General improvements have also been made in other parts of the device, with LCD screens now supporting 2064 x 2208 pixels per eye (a 30% improvement), and Meta upgrading its Fresnel lenses to Pancake lenses, which have fewer chromatic aberrations and cut the distance needed between your eyes and the display (allowing for a slimmer form factor).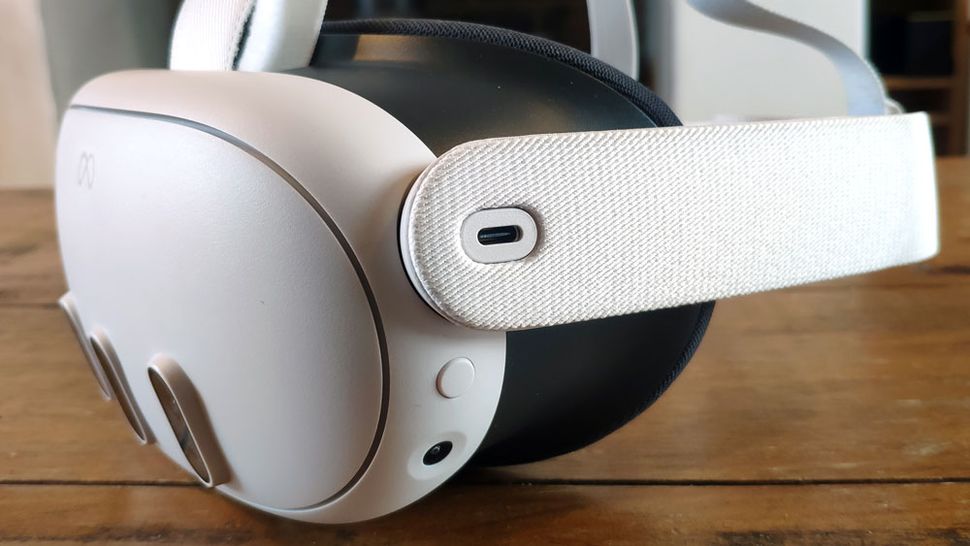 Thanks to an upgrade to the new Snapdragon XR2 Gen 2 chipset, the Meta Quest 3 comes with a big performance boost over previous Meta headsets, and this – along with the extra power requirements for color rendering – is why we haven't seen any big gains in battery life. But at around two hours, it should be enough for most VR experiences. And for those who need extra power, there are external battery packs (mentioned above) that can extend the Meta Quest 3's battery life by an additional two hours.
The Meta Quest 3 speakers are embedded in the arms that sit on either side of your head, and they do a brilliant job, especially with the headset's 3D sound (which helps identify the direction of the sound, especially when gaming). According to Meta, these speakers are 40% louder than the Quest 2, but it's highly unlikely you'll need to go anywhere near maximum volume (and if you do, the sound leakage will likely annoy those around you). If you're worried about audio leakage, there's a 3.5mm audio jack, so you can plug headphones directly into the device. And the Meta Quest 3 also has two embedded microphones located at the bottom of the headset.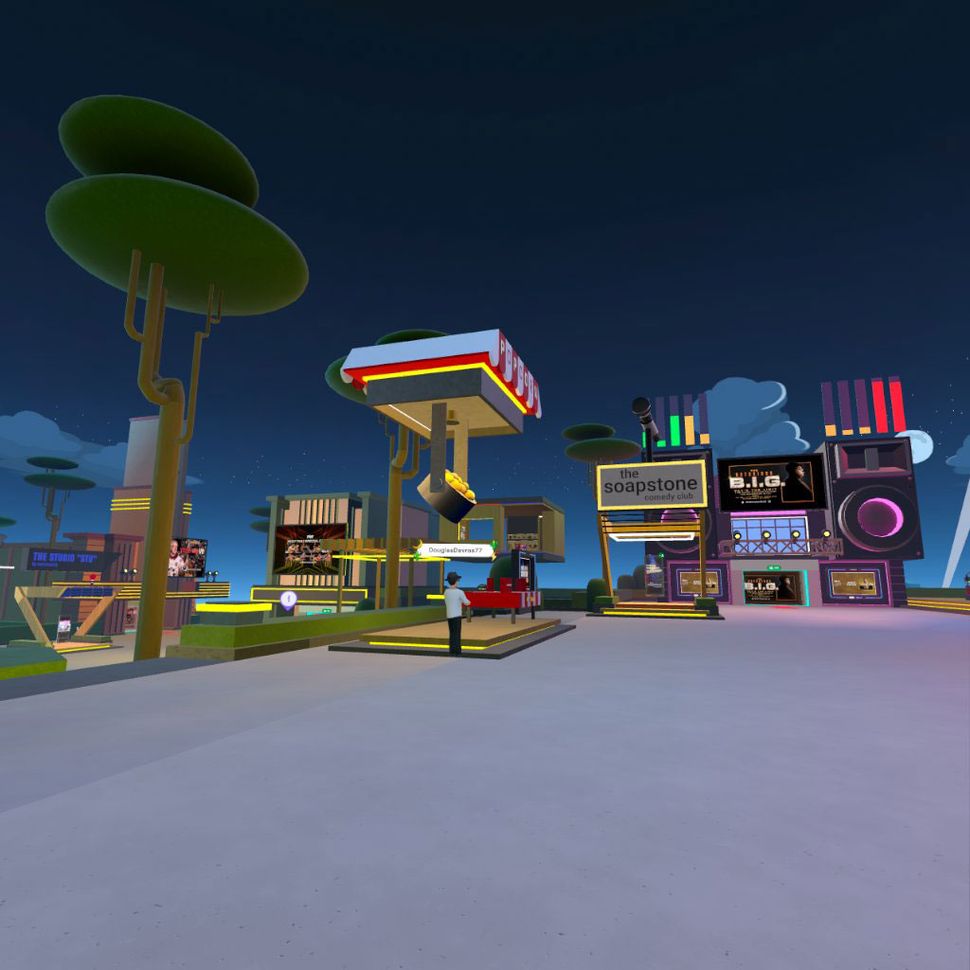 In a world where tech features often trickle into product upgrades, it's reassuring to see Meta make so many big improvements to the Quest 3. And while not every feature from the Quest Pro has been included in this latest launch – facial tracking is one of them. of the main flaws – Meta has integrated some of the best features of the pros.
However, there are still major challenges for VR. It's a hard technology to sell without actually exposing someone to a headset. And with over 1,000 apps at your fingertips – whether used for gaming, collaborating with colleagues, experiencing live events or a host of other use cases – it can be hard to sell the benefits of VR. But with Meta reportedly selling 20 million headsets, more people than ever are getting their first taste of VR.
With the number of improvements made to Meta Quest 3, it is now the best standalone VR headset currently available. And in almost every respect – be it design, comfort, performance or usability – the Meta Quest 3 excels.
Read more: How to use VR models in Procreate
#Meta #Quest #review #gold #standard #standalone